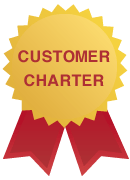 UMBRELLA HOST
Customer Charter
Our customer charter sets out how we want to deal with our customers, covering points including communications, billing, privacy & security and making complaints. We aim to provide you with quality services and exceptional customer service.
---
Billing

Your invoices will be available to you on-line and will have 24 hour a day access to all your financial information via your customer portal. You will have the ability to view your invoices in a printer-friendly format. We guarantee accurate and reliable billing information.

Communication

Our staff in all our departments will ensure that you receive the highest level of courtesy at all times. All departments will ensure that sufficient time is given to your queries and support requests.
---
Privacy and Security

We will never sell your personal details to other companies. All credit/debit cards are held at high levels of encryption on servers not directly connected to the internet or on PCI compliant servers with our payment processor for maximum protection. All your personal information is held in accordance with the Data Protection Act 1998.

Complaints

All complaints will get a formal response within 24 hours. Complaints will be fully documented and confirmed with you. A senior member of staff will see and respond to all complaints. On escalation one of the directors will personally look into your complaint.